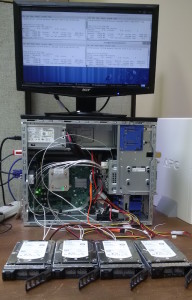 When one encounters multiple hard drive failure in a RAID server there is a sense of panic and concern.  Are the backups working?  Is all the data backed up?  Are all the server settings to rebuild a new server documented?  How long is it going to take?  What is going to be the cost of the down time?  What to do next?
Recently, Recovery Force had a service partner call for advice on a server that had 2 of 4 SAS hard drives fail in a RAID 5 server.  It was agreed that the best course of action was to get the server into Recovery Force for an assessment and recovery.
Within an hour of receiving the server, the Recovery Force team discovered that although 2 drives reported as failed, all 4 were failing.  Our team quickly cloned all 4 drives, figured out which drive went offline first, virtually reconstructed the RAID and extracted it out to a single hard drive in a little bit more than 24 hours.  On top of that, the cost was less than $2000.
The reseller reported back that not only was the data good, but the copied our recovery onto the repaired server and it booted up like nothing happened.
If you are in the unfortunate position of having a server with a failed RAID.  Don't take risks with your data and waste precious time messing around trying to force it back online.  Call 866-750-3169 and talk to a Recovery Force team member to see how we can help get the data recovered quickly.   We even offer remote RAID recovery assistance in certain conditions.